Are longboards expensive? Yes, Longboards are pretty expensive. The way the board is made, and for the expensive materials used, it's hard to keep the price down for many brands.
However, that doesn't mean that you need to reach the end of your pocket for a longboard. You can easily find the best longboard under 150 bucks if you are really tight on your budget.
In this article, we are going to list down some of the most affordable longboards that you can own today without compromising the quality. If you are looking for this combo, you better fasten your seat belt!
Let's jump right in! 
What Makes Longboards So Expensive?
Longboards have gone through significant changes for the past few decades. The longboards we see today are not exactly the same as we saw 20 years ago. Construction, materials, and convenience – everything has seen a noteworthy development, thus hiking the price more than ever. Here are a few reasons why longboards are expensive.
Expensive Materials
The deck is made from different materials like maple wood, carbon fiber, and bamboo. These are not the cheapest materials you find in the market. To ensure strength and durability, there's no way you can use anything less expensive for the deck.
The wheels are now being made from a petrochemical called polyurethane which is extremely flexible and strong at the same time. This petrochemical is also quite expensive.
Another important part of the longboard wheel setup is the set of bearings. These bearings are ceramic-made and also more durable than stainless steel. These also add to the value of the longboard too.
Technique
A key reason for the higher price of a longboard is the technology involved in making it. The building process is not the same as a regular skateboard, and it needs a number of different tools and machines to be used. This also plays a significant role in hiking the price.
Apart from these two, there are some other factors such as trendy design, high-quality printed paint, and brand value, as well. Together, these make a longboard a pretty expensive one, even if you are going for a low-end product.
Is A Longboard More Expensive Than A Skateboard?
Because of the way a longboard is produced and the extent of technology involved in the production process, a longboard is more expensive than a skateboard. A typical well-built longboard comes at a price of $100 to $250, whereas a typical skateboard can come with a price tag of below $100.
What Are The Best Longboards Under 150?
Table of Content:
Here's what we have covered in this article. Click on the topic you find exciting to you and jump right in that section.
Comparison Chart:
To ease it up for you, we have made a comparison chart of the longboards we have reviewed here. It will make it more convenient for you to come to a decision.
11 Best Longboard Under 150 Reviews 2021
We had to spend over 30 hours in total to list down the following longboards. It's tough to find a good longboard under $150; however, our constant research made it possible to jot down 11 of the best options you have in today's market. Read till the end to find out the one that suits you the best.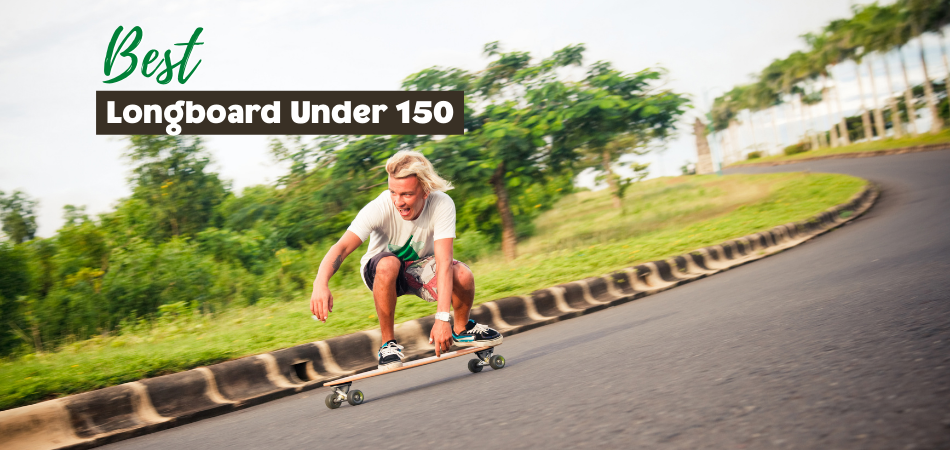 Talented artists from all across the Atlantic have designed the graphics of the Volador 42-inch Freeride longboard. From vintage to modern design – there's graphic design for everybody. Apart from the design, the longboard is a flexible drop-through board for heavy use.
It's made from 8-ply Hardrock maple wood for impressive durability. The board itself works as a shock absorber, so you can put as much pressure as you want. Plus, the boards are struck together with epoxy glue for a stronger connection.
The 42-inch long deck is pretty wide for most users. It has enough room for any rider with any body size to accommodate themselves. You can easily make yourself comfortable regardless of your body type.
Its 7-inch kingpin trucks are made from genuine aluminum. This makes sure that the deck is well-supported by the truck from beneath. Plus, you can adjust the truck up to 45 to 50 degrees as per your needs.
Technical Details
Dimension: 42 x 9 x 4 inches
Weight: 6.15 Pounds
Weight Capacity: 250 Pounds
Material: Rock Maple deck
Wheel Material: Polyurethane
Wheel Size: 70 Millimeters
Summary
Excellent design and impressive durability – this is the blend you enjoy while using the board, definitely worth your bucks.
Up next is the Skatro Drop Through Longboard that is famous for its curve. It is noticeably curved on its edges, giving it a perfect shape that can cut through the air and allows lesser resistance while riding.
The board is designed and constructed with 8 multi-ply maple wood. Each layer of the board is connected to the other with a strong adhesive. The adhesive works extremely well that you can easily compare it to any 10-layer wooden board.
Its 78A wheels are quite robust and give you enough smoothness to move and grove on the street. These 70 by 51 mm wheels are perfectly shaped and designed to allow the deck to move in any direction pretty easily.
The best part is Skatro provides a T-tool with the package for free. You can use the tool for simple troubleshooting on the go when you are carrying the board further than usual. You can easily do some quick repairs with it.
Technical Details
Dimension: 42.4 x 10.8 x 5.1 inches
Weight: 9.15 Pounds
Wheel Size: 70 mm
Durometer Hardness: 78A
Material: Maple wood
Layers: 8
Summary
The most satisfactory feature of this longboard is its extremely strong adhesive that works as a reinforcement, as well. You are getting a lot for a regular price, for sure.
The design of the Hana Longboard will surely resemble a surfboard, as the designers of the board are from Southern California. No doubt, the local surf culture has influenced the makers a lot while designing the boards.
One thing you can easily spot is the short version of the longboard. The 36-inch deck will not seem quite a large one, but it's a simple and pretty well-built longboard that can easily suit anyone with a regular body type.
The fusion of hard maple wood and bamboo gives the board its due durability, and you can surely rely on its strength. Apart from the robustness, the sand grit finish of the wood gives it a tremendously eye-catchy look that everybody longs for.
The surfboard-inspired design apart, the deck comes with an edge-cutting design for the wheels to maneuver freely. This is done to prevent the wheels from wheel biting. So, you will get better wheel support for longer than usual.
Technical Details
Dimension: 38 x 10.5 x 5.5 inches
Weight: 9.1 Pounds
Wheel Size: 70 mm
Deck length: 36 inches
Durometer Hardness: 78A
Material: Maple wood and bamboo
Summary
If you are looking for something simple and compact, this one is going to be a perfect choice for you without a shadow of a doubt.
If you are looking for something pretty straightforward that's not overboard with a funky design, this retro-style classic longboard is a good option to consider. The simple yet durable longboard is just perfect for commuting, carving, and cruising.
Made from heavy-duty Canadian maple, the board screams durability and strength from every inch of its body. You can flex and make a lot of moves on the deck without any risk of damaging or breaking it.
Don't worry about falling down from it, as the deck comes with an extra grippy cover on the surface. The gripping, along with the durable wheels, let you keep yourself grounded pretty conveniently when you are riding on the board.
The wheels are well-operated with ABEC-7 tolerance ball bearings inside. These bearings work perfectly to make sure that the wheels are turning as they should without any hiccups here and there.
Technical Details
Dimension: 42.8 x 11.2 x 4.6 inches
Weight: 2.2 Pounds
Wheel Size: 70 mm
Durometer Hardness: 78A
Material: Maple
Wheel Material: Polyurethane
Summary
For anyone looking for a beginner-friendly and simple longboard, this should be an ideal benchmark.
Size does matter when it comes to using a longboard. The Quest QT-NSC44C is one of the largest and widest longboards we have reviewed so far. Its unparalleled 44-inch deck is just the kind of length you need for comfortable cruising.
Built from hardwood maple wood, the multi-ply construction offers amazing durability with flexible movement. The wood is mixed with Artisan bamboo to offer better strength and a smooth outer design. The combination is hard to find at this price range.
It's no surprise that the board with this kind of strength can hold quite a lot of weight on it. According to the users, it can easily hold up to 250 pounds pretty effortlessly. Even if you are a heavyweight guy looking for a daily ride, it's there for you!
As supporting characters to the deck, the 7-inch rugged aluminum truck and ABEC 7-speed bearings play excellent roles, too. The total combo gives you the necessary flex and movement options you need for a smooth and enjoyable ride!
Technical Details
Dimension: 43 x 9 x 44 inches
Weight: 9.6 Pounds
Material: Maple wood and bamboo
Wheel Material: Polyurethane
Wheel size: 70mm
Color: Black
Summary
If you are a heavyweight user and looking for something durable and strong to support your weight, you can simply pick this one up right now!
Another top-class skateboard on our list is the Minority Downhill longboard. This is a classic-looking modern skateboard that offers a low gravity built-up to allow you to enjoy riding at any given speed. Whether you want to go slow or fast – this one has got your back.
Made from 100% solid maple wood, the deck is what you would pick for strength and durability. The 8-ply cold-pressed wood offers pretty much resistance against pressure so that you can put as much weight as you want over it.
To support the strength, the wooden board has a few supporting hands!! Take the 7-inch reverse kingpin trucks, for example. This one is pretty strong and allows the deck to move from 50 to 45 degrees without any issue. Plus, the 78A PU wheels equipped with ABEC-9 bearings are also there to ensure smoothness.
The width of the deck is also quite wide to support some big guys. A 10-inch width with a 40-inch length is a perfect combination for users with different body types. You can enjoy both slow and fast rides on it with zero risk of falling down from it.
Technical Details
Dimension: 40 x 9 x 4 inches
Weight: 7.5 Pounds
Wheel Size: 70mm
Wheel Material: Polyurethane
Load capacity; 200 pounds
Durometer Hardness: 78A
Deck width: 10 inches
Summary
The Minority Downhill longboard is just the type of longboard you need for your regular riding. It's strong, it's durable, and it also offers super-flexibility.
Don't feel like riding long and wide longboards? Well, we have got something for you too! Introducing the Landshark Islam Style longboard with only a 35-inch deck length. This is a perfect longboard for lightweight riders who are looking for some crazy moves.
The retro and surf-style design makes it quite well-suited for some exciting rides. However, the board is also a great choice for carving, cruising, and even daily commuting too. It's an all-purpose longboard, without a doubt.
It comes with a durable construction from 8-ply Canadian maple wood. The strong construction gives it the much-needed durability for its short and miniature design. However, it still can't hold heavyweight pressure but works great for regular riders.
The deck has four cutouts on the wheels' area to keep the wheels exposed. This makes it easy for the wheels to take some extreme turns and give you excellent movement opportunities. It also prevents wheel bites, as well.
Technical Details
Dimension: 35 x 9.25 x 0.5 inches
Weight: 7 Pounds
Wheel size: 54mm
Deck length: 35 inches
Wheel Material: Polyurethane
Material: Maple wood
Summary
If you are looking for a solo-riding experience that gives you enough maneuvering and flex, this short-sized longboard should be on your top list.
Magneto longboards are designed by skaters who know what skating is all about. The designs of the board are inspired by different locations of the birthplace of longboards – Southern California.
This 44-inch longboard is a great choice if you are looking for a ride that allows you a lot of room in it. Not everybody wants to be confined in a small area, so the free birds can pick this one out for having room to breathe.
Its core construction is done with bamboo veneer that is placed on the top and the bottom of the maple wood core. This gives it the perfect strength and stiffness you need in a longboard. Plus, its sand grit finish also adds to the gripping of the board, which eliminates the need for separate gripping on the deck.
As for the trucks in the bottom, these are made from gravity-cast aluminum material. You can easily rely on the strength of the aluminum that holds on to the wheels quite impressively. Plus, it allows you to move freely and gives you enough room to take turns.
Technical Details
Package Dimensions: 45.5 x 11.1 x 6.5 inches
Weight: 8 Pounds
Deck Width: 9 Inches
Material: Bamboo and Maple
Deck Length: 44 Inches
Durometer Hardness: 78A
Wheel Size: 70 Millimeters
Load Capacity 275 Pounds
Summary
With its amazing 275-pounds load capacity, this is something you need to pick up if you are looking for a heavyweight-friendly longboard.
If you are fascinated by longboard designs, then you are surely going to love the Glider Collection premium longboard. Apart from the fact that this one is also designed by actual skaters from the birthplace of longboards, the making of the board is pretty exceptional.
The first thing you will notice on the board is its exceptionally large and oversized wheels. The 100mm by 25 mm wheels are pretty big, to be honest, and gives you the opportunity to take the board anywhere you want!
No matter where you are riding, the terrain, rough streets, roadsides that are full of debris and all – you can easily rely on this board without a doubt! Make the most out of your extreme riding needs with this board under your feet!
This 8-layer combination of maple wood and bamboo offers the strength you need for some adventurous rides. Moreover, its 45mm drop in the middle of the deck gives you a drop-through design to keep the center of gravity low and turn your ride into a smooth one every time!
Technical Details
Dimension: 39.69 x 11 x 6.3 inches
Weight: 9.35 Pounds
Deck length: 38 inches
Material: Bamboo, maple
Wheel size: 100 mm
Color: Low glider
Summary
The oversized wheels are the key attraction of this longboard here. If you are into extreme riding, no matter what, this one should be on top of your choices.
Looking for the shortest longboard for your regular riding? The Globe Chromantic Cruiser Galaxy can be an excellent choice for you without a doubt. Its 33-inch deck length is quite unique as most longboards in the market vary from 40 to 44 inches.
One of the unique features of the longboard is its mesmerizing galaxy design. Its dark, multicolor design will surely impress you and everyone around you. The top and the bottom of the deck are equally designed with the same paint.
It goes without saying that the longboard is pretty lightweight. You can easily carry this 6-pound ride with your hands wherever you go. Being one of the shortest longboards out there, the lightweight design simply adds to the compact nature of the board.
As for the construction, the longboard is made from heavy-duty and durable maple wood. The entire board is a concentrated output of 8-ply layered wood that is stuck together with strong and powerful adhesive.
Technical Details
Dimension: 33 x 9 x 5 inches
Weight: 6 Pounds
Wheel size: 62 mm
Durometer Hardness: 83A
Deck width: 9 inches
Deck length: 33 inch
Summary
The 6-pound profile and 33-inch deck length give a proper idea of how compact this board is. If that's what you are looking for, no need to move forward!
So our expedition for the ​​best longboard under 150 dollar comes to an end with the Black Longboard collection. Designwise, this one is one of the very best we have seen so far, and the construction is equally impressive.
It's made with Brazilian rosewood on the top and bottom of the deck. In the middle, you have 9-ply Canadian maple wood. Attached by strong and sturdy adhesive, the board's durability is simply unreal.
Moreover, its laser-cut grip tape makes it pretty easy for you to stick to the surface. It won't let you drop out in any way, for sure. Then again, the drop-down design also makes it easy for you to stay low to the ground for better control.
Its 7-inch rugged aluminum trucks with rebound brush give you the most exciting carving experience you can long for. Thanks to the Hooligan wheels and ABEC-9 precision bearings at the core that make some of the extreme movements possible.
Technical Details
Dimension: 38.5 x 10.9 x 4.5 inches
Weight: 8.25 Pounds
Wheel size: 70mm
Material: Maple, rosewood
Color: Samurai
Wheelbase: 29 inches
Summary
From the making to the design – this one is just an example of excellence from the makers.
How To Choose Best Longboard Under 150 Bucks
If you are up for the best longboard under $150, you better be careful as some of the brands do compromise with the quality to compensate for the lower price. Keep the following factors in mind while shopping for a longboard for 150 dollars or less.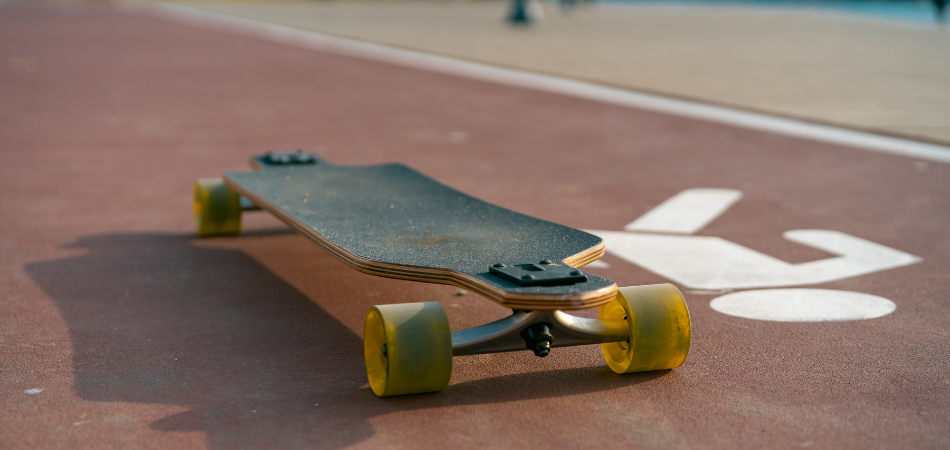 Construction
The very first compromise is made with the construction. You don't have to get something weaker just because you are paying less. Make sure the deck is made from 8 or 9-ply wood. It's better to get Canadian maple and best to have it mixed with bamboo.
Wheel Strength
If you want smooth movement, you definitely need a set of strong and smooth wheels. The wheels should come with a pretty solid grip and smoothness to move in any direction. This also depends on the bearings inside, so you must ensure the board has some precision bearings, as well.
Deck Grip
Most top-class longboards have a grit sand finish that works quite well as a grip. However, if that's not the case, it's okay to have an extra layer of grip on the surface for support.
Rugged Truck
The Truck holds on to the set of wheels and keeps them in control. Try to find a board with a couple of rugged aluminum trucks that offer solid strength and useful movement up to a 50-degree angle.
Load Capacity
There's no point in spending 150 bucks on a longboard if you can't carry yourself on it. Don't forget to check the load capacity before you buy it. Try to get the one that offers more load capacity than your own weight. This will ensure that it can conveniently carry your weight without any complexity.
Frequently Asked Questions
What brand of longboard is the best?
There are a number of brands in the market that are leading the longboard industry. You can easily pick up any longboard from Skatro, Hana, Landshark, Glider, Volador, etc.
What shape of a longboard is best for a beginner?
For a beginner, a down-to-ground design is going to be the best. That's why a drop-through shape should be a good choice for a newbie, as it allows the user to be close to the ground.
Is longboarding easy to learn?
Yes. Longboards are easy to learn. All you need is just a bit of practice for a few times at a secured place, and it won't take a few days for you to master it.
Are longboards better for beginners?
Both longboards and skateboards are good choices for beginners. However, longboards provide better stability and more room to breathe, which may help new users more than a skateboard.
Is 30 mph fast on a longboard?
Yes, 30 mph is quite fast for a longboard. If you are not in a hurry, it's better not to reach that speed quite often.
Final Words
Truth be told, if you are to pick any of the longboards we have listed down here, you will surely pick it as the best longboard under 150 bucks. That's because we have carefully picked these 11 boards considering the quality, material, and applications.
However, if you are not into searching for yourself, you can easily pick up our editor's choice – the Volador 42inch Freeride Longboard Complete Cruise. This one is a very lightweight yet durable longboard for regular commuting and cruising. With top-class 70mm wheel support, the longboard is a perfect choice for any user.
Again, if you are planning on exploring more, our buying guide is right here with you!
Happy riding!