Skateboarding is nothing new to you. And you must be enjoying it when seeing friends and neighbors playing with a skateboard, especially for sports or recreation purposes. But, have you ever thought of it as an alternative commuting option instead of a car, bike, or motorcycle?
Sounds a bit creepy? No. You heard it right. All you need is to get the best skateboard for transportation to start this journey. Apart from that, it can help to reach your destination much faster, sometimes. Alternatively, you can enjoy an emission-free green environment by saving parking expenses as well.
There are hundreds of skateboards out there in the market. Choosing the right one would be a bit puzzling, especially when you're newer to this game. Therefore, we selected the best options for you after spending hours on product research and study. We reviewed the (TEN)10 best skateboards based on their features, benefits, and drawbacks. Let's dive into them!
Why Do You Need Best Skateboard For Transportation?
Getting a suitable skateboard for transportation has numerous benefits over the regular commuting option like bike, car, or public transport. We're going to introduce several practical advantages of using one. Here are some of them.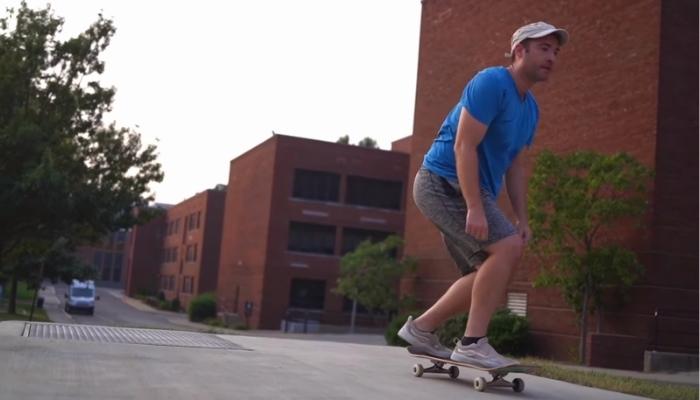 It saves time
Do you know? If a skateboard cuts 20 minutes from your daily commuting, it saves approximately 2 hours in a week?
One of the most important reasons to get a skateboard is to save commuting time. Skateboarding can help you out from public transportation while you're trapped in a traffic jam. Therefore, you can think of using available shortcuts to reach your destination faster.
Saves money too
There's a saying, "Time is money." Yes. They don't only save your time but also money as well.  On the top, you don't have to find parking and pay for that since it's handy and portable. Besides, you can also save lots of money without using costly come-and-go public transports.
Eco friendly
You don't have to worry about global warming and air pollution when you have a skateboard to ride on. They're environmentally friendly since they offer eco-friendly operations and zero carbon emission. Therefore, it can be one of the best possible ways to contribute to saving the planet.
Health benefits
It has several positive impacts on health. Riding a skateboard in perfect coordination and synchronization can help you both physically and mentally in many ways. Besides, skateboarding improves eye coordination and the formation of leg muscles.
Some researchers found this transport very helpful in resistance training and post-injury rehabilitation. The article was published in the US National Library of Medicine, National Institutes of Health.
What's more?
Be social and make community in your local area with skateboarding activity. Roaming and skating on the park and street can provide you with excellent and interesting experiences. Besides, having lots of fun is a plus. To know more about its advantages watch the video.
Comparison Chart:
| Best Hover 1 Hoverboard | Model | Net Weight | Load | Max Speed | Max Distance Range |
| --- | --- | --- | --- | --- | --- |
| Hover-1 Ultra Electric Self-Balancing Hoverboard Scooter | HY-RM-ULTRA | 49 lbs (10.2kg) | 44-220 lbs (20-100 kg) | Up to 10 mph (16.1 km/h) | Up to 12 miles (19.3 km) |
|  Hover-1 Titan Electric Hoverboard | HY-TTN-Hover-1 Titan | 63lbs | 44-265 lbs | up to 7.45 mph | up to 8.4 miles |
| Hover-1 Dream Electric Hoverboard | Hover-1™ Dream (H1-DRM) | 3 lbs (7.4 kg) | 44-220 lbs (20-100 kg) |  Up to 7 mph (11.3 km/h) | Up to 6 miles (9.7 km) |
| Hover-1 H1 Hoverboard Electric Scooter | HY-H1 | 3 lbs | 44-264 lbs | up to 9mph | 9 miles |
|  Hover-1 Chrome Electric Hoverboard | HY-CHR_Hver-1 Chrome | 29 lbs | 44-220 lbs | up to 6 mph | up to 6 miles |
| Hover-1 Chrome 2.0 Electric Hoverboard | H1-CME-Hover-1 Chrome | 8 lbs | 44-220 lbs | 7 mph | 6 miles |
| Hover-1 Helix Electric Hoverboard | Hover-1 Helix | 43 lbs | 44-160 lbs | up to 7 mph | up to 3 miles |
| Hover-1 Drive Electric Hoverboard | Hover-1 Drive | 45 lbs | 44-160 lbs | up to 7 mph | up to 3 miles |
| Hover-1 Origin Electric Hoverboard | Hover-1 Origin |  31 lbs | 44-220 lbs | up to 7 mph | up to 6 miles |
10 Best Skateboard For Transportation 2023
Here, we will review the 10 best skateboard for transportation or daily commuting. We tried to show our best products with their features, advantages, and disadvantages. You'll also get the reason why you choose one from each product review. With no further delay, let's get started!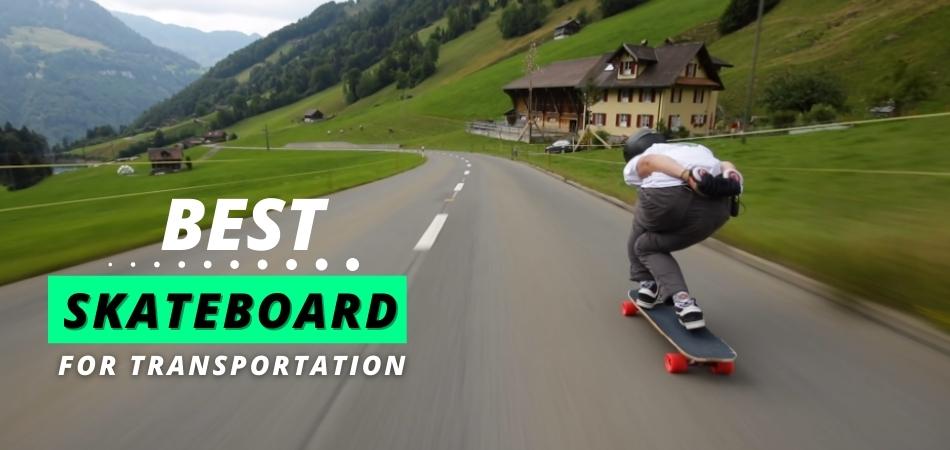 1. APOLLO Skateboards: Our Best Pick
The APOLLO Longboard is the best skateboard for transportation for teens and adults. This premium cruiser skateboard features a combination of bamboo and fiberglass materials and high-speed bearing technology. It also comes with the overall best design, durability, safety, and performance. Let's see the features at a glance.
First and foremost, it uses a perfect combination of bamboo and solid fiberglass materials that deliver high flexibility and stability. The combination is composed of THREE(3) layer bamboo core flex and TWO(2) layer fiberglass for top and bottom parts.
The fiberglass part makes the deck more stable and robust.
This deck part also helps to control stability when you're at high speed. Therefore, you got the robustness, durability, and flexibility together. It allows different levels of skating experience on your commuting streets. The APOLLO cruiser board features a symmetrical Twin-Tip-Drop-Through that provides a low center of gravity for long-distance skating.
The symmetrical Twin-Tip-Drop-Through also helps to cruise the beginners at freeride and downhill sites. It delivers exciting longboard riding for the experts as well. The most exciting thing is this cruise board comes with German design and engineering technology. They upgraded it with strong 7-inch FatCat aircraft-grade alloy trucks that survive a long time in any rough terrains.
It has durable bearings and wheels. This durable skateboard adopts grippy and easy-to-control soft-medium(HR78A) wheels. Thus, the wheels help to achieve acceleration, smooth, and enjoyable cruising. The bearing they use is ABEC9-RS premium-class chrome steel bearings to deliver precise stability and safety.
Technical Information
Skateboard dimensions: 39 x 9 inches
Deck material: 5, bamboo(3 layers), and fiberglass(2 layers)
Load capacity: Up to 220 pounds
Trucks: 7-inch aluminum alloy 95A
Wheels: 70 x 51 mm HR83A red
Type: Twin tip drop through
Final Thoughts
Who wouldn't think of the best skateboard for transportation with cutting-edge built materials? The APOLLO Longboards made it possible with its durable deck, sturdy wheel, high-speed bearing, and German engineering technology. It's the best pick on our list. What else do you need?
2. Magneto Barefoot Mini Cruiser: Best Mini Skateboard
The Magneto Barefoot presents the best beginner skateboard for transportation with inspiration from the birthplace of longboarding, Southern California. It offers multiple design patterns from the surfing culture and natural materials. They're just aesthetic and fantastic to look at. They also feature some impressive features with excellent performance.
This Mgneto barefoot mini cruiser features a foam grip tape with EVA foam technology. The foams offer a surf stomp pad-enabled maple wood deck pad that delivers outstanding comfort and pleasure. There is a soft cushion under barefoot for preventing damage from the heavy shock and vibrations of skating.
It's very lightweight and portable. The Magneto barefoot skateboard comes with supper portability, so you can carry and ride around to have fun. The light and sleek design allows carrying this broad from one place to another. You can even take this little champ in your college or shopping bag.
The deck was built from high-quality 6-ply maple wood that makes it more strong and durable. There is a sand grit finish and unique graphics to provide extra grip to your shoes. The measurement of this mini cruiser is length 27.5, width 7.5, and wheelbase 18.5 only.
The trucks they use under the deck are made of pure gravity cast aluminum, making the structure more reliable, sturdy, and stable. Its Paris-style truck comes in a 5-inch hanger and 55-degree kingpin to protect the body from shock and roughness. The wheel and bush also adopt cast polyurethane, so it's plastic-free.
Technical Information
Skateboard dimensions: 27.5 x 7.5 inches
Load capacity: Up to 210 pounds
Body material: 6-ply maple, gravity cast aluminum
Wheel material: Polyurethane (SHR – High Rebound Urethane)
Hardness: Shore 78A
Age range: Teen and Adult
Final Thoughts
This Magneto barefoot provides the best mini skateboard for every age group, especially those with tiny feet. However, it comes with a fancy design and durable structure with outstanding performance for beginner to expert skaters.
3. DINBIN Complete Cruise Skateboard: Best For Safety Materials
Do you want a safe and secure skateboard for transportation purposes? The DINBIN gets one with the different safety features and mechanisms. It also offers the freedom to ride it freestyle to downhill or city roads. Let's get you through some of its features and benefits.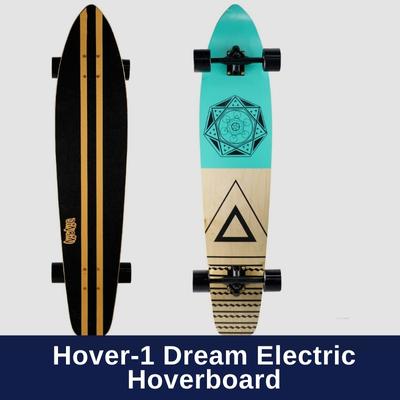 Safety matters a lot, especially when learning skating or developing this skill to the next level. So, the DINBIN complete skateboard comes with several safety measures. It uses durable but flex 8-ply maple wood for deck safety. The maximum load it can handle is up to 220 pounds(100 kg).
This commuting skateboard features rugged yet lightweight aluminum alloy trucks that provide durable bonding between the truck and the deck. The high rebound bushings and thick pad provide extensive stability at rough terrain and turning. Further, this DINBIN skateboard uses 85A-PU wheels and ABEC-11 precision bearings for enjoying a safe and comfortable ride.
You'll find great maneuverability using this longboard, especially for cruising, free ride, downhill, etc. This board is strong enough to balance and stabilize while cruising on rugged terrains. If we talk about color and design, it comes with stunning design patterns and color print.
Technical Information
Skateboard dimension: 42 x 9.25 inches
Unit weight: 7.3 pounds
Deck material: 8 ply maple wood
Load capacity: 220 pounds
Wheels and bearings: 70x51mm 85A PU, ABEC-11
Final Thoughts
Get this one if you're looking for a safe and durable option for regular commuting or entertainment purposes. The DINBIN complete cruise skateboard offers impressive safety features with durable materials and structure. It's a good choice for all kinds of roads.
4. LOSENKA Standard Skateboard: Best For Maximum Load Capacity
Do you want to cruise with a heavyweight or need a strong deck board to ride on uneven surfaces? No problem. Take a look at this one. This standard board also offers several useful features and numerous benefits. The LOSENKA introduces an extremely durable skateboard with maximum load capacity.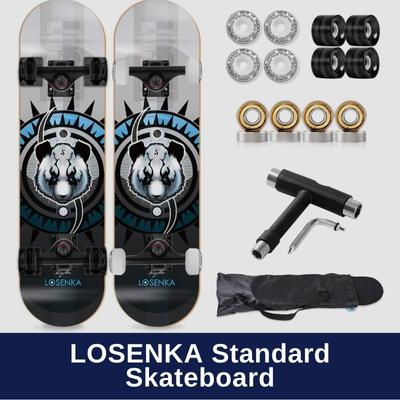 It comes with a hard rock 7-ply maple wood double kickboard for both beginner and professional skaters. The champs also come with two sets of wheels so you can deal with any condition you face. You'll find sturdy hardware, including HR-95A durometer, ABEC-7 bearings, magnesium alloy trucks, and 95A conventional bush mechanisms.
The LOSENKA 31-inch standard skateboard features anti-slippery grip tape technology throughout the board. Therefore you're safe. No matter how bulky and fast you're. It's also a great choice for the 360s, OL action, and other patterns. You can enjoy smooth cruising with this load capacity.
Technical Information
Skateboard dimension: 31 x 8 inches
Material: Canadian maple (7-ply)
Load capacity: 330 pounds
Durometer hardness: 95A
Wheel size: 52 mm
Final Thoughts
The LOSENKA features a durable skateboard with a maximum weight load of up to 300 pounds. It also offers sturdy hardware components that support a lot for making this board more durable. It is an excellent choice for people who are heavy and like riding on rough terrain.
5. White Wave Bamboo Skateboard: The Most Versatile Skateboard
The White Wave presents the most versatile complete skateboard for transportation and entertainment. They come in different colors, designs, and styles, including Missile(small), Bullet, Warrior, Mayhem, Drifter, etc. You can choose any appearance from them to hit the street. Let's see what other features they come with.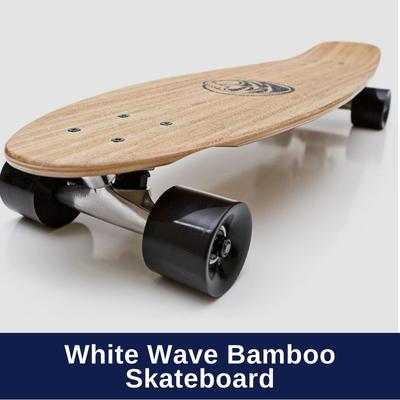 They offer several designs besides this 28×8-inch stylish and durable deck. The White Wave Bamboo Longboard uses a high-quality bamboo material layer and maple wood. The bamboo layer is embedded with the wood layer to make your ride safe and smoother. They then adopt heat-transferred graphics and clear grip tape for durability and extra safety.
Most of them use strong and high-quality wheels to ride almost any terrain when it's about wheels. The impressive durometers are made of high rebound urethane to make them stronger and fast on any terrain. The White Wave uses ABEC-9 grade hellion bearings with built-in spacer technology for added additional safety.
Now, you must ask about busing and trucks. Worry not. Most of them use aluminum alloy trucks that deliver you a premium matte finish and classy look along with endurance support. What about the bushing? They adopt ultra-high rebound bushing technology that makes the longboard more perfect.
Technical Information
Skateboard dimension: 28 x 8 inches
Full weight: 5 pounds
Size: Missile (small)
Material: Aluminum, bamboo, maple
Wheel size: 60 x 45 mm (rebound urethane)
Bearing: ABEC-9 bearings (hellion)
Truck size: 5 inch
Final Thoughts
If you're looking for a stylish, durable, and versatile computing option, get this Wave Bamboo longboard. It offers a variety of designs, robust stability mechanisms, and cutting-edge bearing technology. It's a perfect choice for all the skaters.
6. Beleev Cruiser Skateboard: Best Affordable Commuting Skateboard
The Beleev presents one of the best affordable yet durable cruiser skateboards for transportation, especially for beginners. It comes in a fully assembled condition, so all you need to do is ride and hit the streets. This ultimate skateboard also provides plenty of foot space along with a 27-inch deck.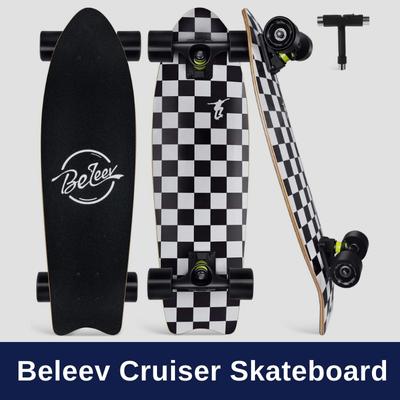 It's sturdy, strong, and robust. This concave trick skateboard adopts a durable 7-ply Canadian maple wood deck architecture that can withstand a load of 220 pounds. Besides, it also comes with 5-inch heavy-duty(aluminum alloy) trucks that provide you with a reliable and safe skating experience for all.
Enjoy a smooth and speedy ride with its 60×45 mm anti-slip PU-78A high rebound wheels. Further, it also features ABEC-7 fast moving precision bearings and a shock absorption mechanism to deliver extra stability in the uneven streets. So, don't worry about the bumps and sidewalk cracks.
It's super easy to stop and control. This Beleev concave skateboard comes with a double asymmetric kicktail, so you can quickly stop the board anytime. The kicktail also gives extra energy heels to your toes. Again, a waterproof and anti-slip emery grip system delivers perfect traction between shoes and board.
The printing is durable and cool. It comes in an excellent, creative, and eye-catchy graphic design that's very aesthetic and durable for long-time use. Both the color combination and design are suitable for the different age groups. They use the Heat Transfer Printing(HTP) method for printing the board, so it lasts along.
Technical Information
Skateboard dimension: 27 x 8 inches
Item weight: 5 pounds
Deck materials: Canadian maple wood (7-ply)
Local capacity: Up to 220 pounds
Durometer Hardness: 78A
Wheel size: 60 mm (polyurethane)
Final Thoughts
If you're looking for an affordable commuting option to go to an office, club, or grocery, get this Beleev cruiser skateboard. This skateboard doesn't only come with a durable structure but also at an affordable price. It also features different useful and safety features to deliver a superb skating experience.
7. Retrospec Alameda Skateboard: Best Cruise Skateboard For Beginners
Do you want a high-caliber skateboard that provides a sturdy and reliable structure? The Retrospec Alameda comes with one for you. It also features a premium Canadian maple wood deck and exclusive cruise features that provide a perfect flick on city streets. What more it offers? Let's find.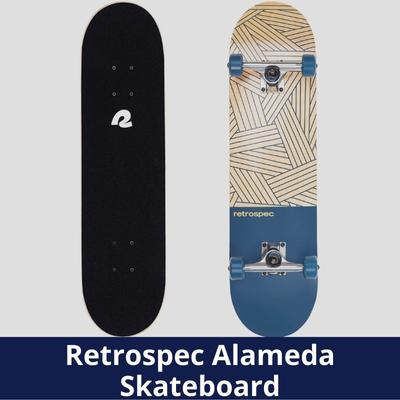 The Retrospec Alameda skateboard features 5.5-inch aluminum alloy trucks and carbon steel kingpins to provide a durable deck board. Besides, it uses high rebound polyurethane and thermoplastic bushings to smash all the streets. The panel is assembled by hand, so it's durable.
This Retrospec transport skateboard comes with premium quality ABEC-7 precision chrome bearings when it's the turn of bearings. Therefore, you don't have to worry about speed and performance. Besides, these bearings adopt a rubber cover protection to fight against dust and mote. You can also clean them easily.
It provides smooth and phenomenal control. Kick, push, and shore in the city with its heavy-duty polyurethane wheels. The wheels offer outstanding roll, grip, and speed on different surfaces. Don't worry if you're a learner because the grip tape and concave board help flick and control in many ways.
Saying nothing about design, the board comes in various patterns and unique printed designs. The design suits every age of people, especially kids and youngsters. In addition, it delivers you a 100% assembly and ready-to-ride condition skateboard in the box.
Technical Information
Skateboard dimension: 7.5 x 31 inches
Skateboard weight: 6 pounds
Material: 7 ply Canadian wood
Wheel material: Polyurethane
Wheel size: 52 mm
Trucks: 5.5-inch aluminum alloy
Final Thoughts
The Retrospec Alameda is the best cruise skateboard for beginners with all the necessary features and benefits. It offers a durable and long deck, non-slip grip, and robust bearings technology. The wheel bearing has a dust protection cover as well. Besides, this skateboard features sturdy polyurethane wheels with effortless control.
8. WeSkate Skateboard: Best For Smooth Performance
Rule the downhill, uphill, or city area restlessly and smoothly with the WeSkate concave skateboard. It features various built-in features to provide you with a smooth and comfortable skating experience. If you're new to this fun, then it'll blow your mind with performance. Let's know more about the features.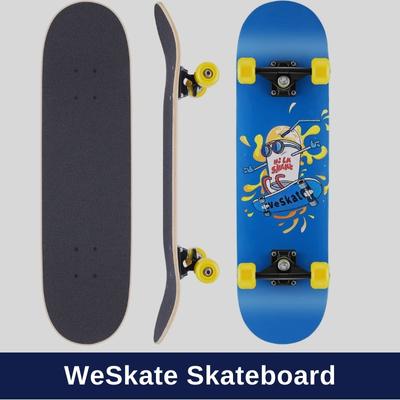 The most impressive thing is about this skateboard is its smoothness and speed. It uses high-speed PU-85A wheels and ABEC-11 bearing technology along with high rebound bushing. Altogether they deliver an excellent smooth riding experience on any uneven surfaces. The rebound bushing also provides better control and shock absorption in commuting on parks, pools, and other surfaces.
It's robust. The sturdy and robust desk is made of 7-layer Canadian maple wood as a built material. It helps you to keep the perfect balance between tough withstand and weight load. This durable skateboard also features 5-inch magnesium alloy trucks. Thus it can handle a maximum load of up to 220 pounds.
Experience a safer, high-quality, and eco-friendly sandpaper that provides you with high friction and superb anti-slip grip. The sandpaper comes with an emery grip for added extra safety and control. There is beautiful and durable waterproof printing on the board that offers a maximum life span.
Technical Information
Skateboard dimension: 8 x 31 inches
Material: 7-layer maple wood
Durometer hardness: 85A
Wheel material: Polyurethane
Load capacity: 220 pounds
Bearing technology: ABEC-11
Final Thoughts
If you're looking for a smooth and safer skating option, get this WeSkate skateboard. It provides a smooth riding experience with cutting-edge wheel, bearing, and bushing technology. It's safe and reliable for both beginners and mid-level skaters.
9. Cal-7 Complete Skateboard: Best For Wheel Quality
The Cal 7 Complete Skateboard features one of the most popular commuting options for you. This is the complete skateboard durable alloy truck, maple deck, and ABEC-7 class bearings. It also offers sturdy made 99A urethane wheels. You'll enjoy its bold design, colors, and other splendid features too.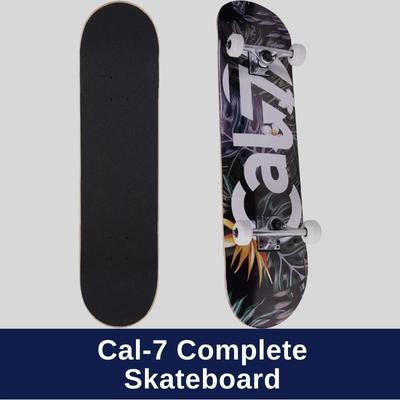 The deck delivers an effective and smooth cruising experience with its medium concave kicktail design. The stability and balance credit go to the symmetry design that lets you pull off flying moves and tricks. Moving to materials, it uses 7-layer maple wood to enhance durability.
There are also SEVEL(7) layer ultra-thin veneers of plastic with epoxy glue for added extra durability. Plus, it adopts an 80Ab edge-to-edge back grip tape for ensuring safety ride. Another benefit of using this grip is to deliver a firm hold even you're at high speed.
The CAL-7 uses soft yet sturdy wheels for maintaining quality. Therefore, it uses a 99A grade durometer in wheels to make them more rigid. Again, you'll get polyurethane plastic as the core material that allows rollover of any rough surface. Thus, you can enjoy a shock and vibration-free smooth ride with alloy trucks.
The speed and smoothness of the skateboard mainly depend on ideal bearings. It adopts ABEC-7 grade bearings compatible with precision and tolerance at high RPM(revolution per minute) of wheels. In addition, the bearings come with a pre-lubrication to deliver extra smoothness and comfort.
It looks cool. This complete cruise board comes with a combination of colors, graphics, and patterns that make you feel different. Besides, they also offer retro-style colors that suit every situation, location, and personality. Moreover, most of the CAL-7 board features high contrast artwork underneath design.
Technical Information
Skateboard dimension: 8 inch width
Material: 7-ply maple wood
Durometer hardness: 99A
Wheel material: Alloy steel 99A urethane
Bearing: ABEC-7 grade
Wheel size: 52 mm
Final Thoughts
The Cal 7 offers a complete skateboard for commuting with solid and durable wheels and bearing quality. It also features an ABEC-7 bearing standard and 99A urethane wheels durometer to make your ride more safe and comfortable.
10. Powell Peralta Golden Flying Dragon Skateboard: Best For Design
Do you want a daily commuting option besides an enjoyable and memorable skateboarding adventure? Worry not, the Powell Golden Flying Dragon is here to present the most astonishing design with excellent performance. You can learn to skate quickly or take your skill to the next level with it.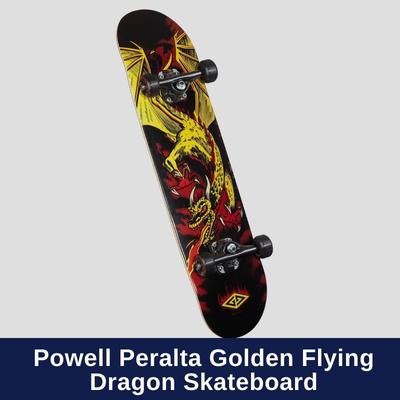 The design of this Powell Peralta skateboard is excellent. It's cool and fancy. This complete cruiser skateboard comes with an aesthetic, unique design, and skatepark graphics. Its eye-catchy design quickly pays attention to any skateboard lover. The graphics and painting are also durable for long time use.
We loved the performance. It comfortably delivers an impressive performance at short and long distance with its high quality deck. They use a polymeric strap deck to make it more robust and stable. This technique also prevents cracking of your board at the high sock and pressure. Therefore, both you and your skateboard are safe.
The deck comes with a concave shape with grip tape for providing you with excellent grip on different terrain and turns. This unique skateboard comes with casted polyurethane wheels that deliver smooth minimal friction to all skaters. It's durable and very lightweight. They use carbon steel axles and kingpins to make the understructure more durable.
You can easily ride and control this skateboard since the manufacturer uses precise gilde and control mechanisms. In addition to that, they ensured superior quality with the Powell Peralta factory engineering and testing.
Technical Information
Skateboard dimension: 7.63 x 31.68 inches
Item weight: 4.4 pounds
Load capacity: 200 pounds
Material: Maple wood
Trucks: Casted aluminum alloy
Wheels: 54mm/90A
Wheel formula: PGD super high rebound
Deck bottom: Screened
Final Thoughts
The Powell Golden Flying Dragon Skateboard features a stylish premium design to ensure quality and performance. Besides, the board provides durability, stability, and different safety mechanisms for regular transportation.
Criteria To Look For When Buying A Skateboard For Transportation [Buying Guide]
We hope you made a purchase decision after reading the product review besides their features and benefits. It's natural! However, before that, you should also look for some criteria when buying the best skateboards for commuting. These will help you to narrow down and choose the suitable one.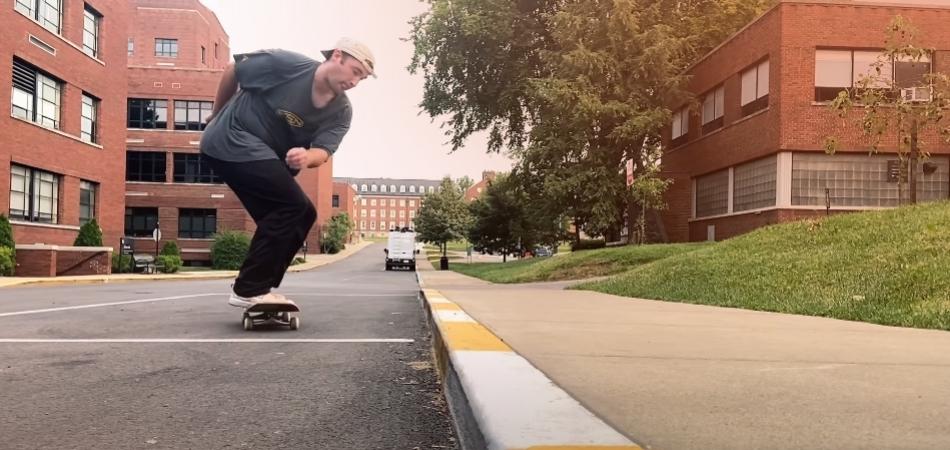 Size
Size matters. This is one of the most important factors to consider when purchasing a skateboard for day-to-day commuting or transportation. You'll find tons of longboard ins the market from them. Try to take one with a length of 23 to 31 inches. Besides, an ideal width of 7 to 9 inches for teens and adults.
A little more will be okay, but don't go for more than this range. The right deck size is important to maintain a perfect balance.
Load Capacity
Weight capacity is another essential factor, especially while you want to skate on any terrains fearlessly. Besides, there is change breaking down the deck in the middle point before you reach the destination. Alternatively, it's also important to consider if you're a bit weighty.
We listed too many options for you, from 200 pounds to 350 pounds weight capacity skateboard. But, you have regular body weight and surface to ride, then forget about this concern.
Wheel & Bearing Materials
Try to purchase one that comes with robust and high-quality wheels and bearings. Most of our reviewed skateboards have that criteria. The skateboards that use polyurethane as their core materials tend to be more powerful and have shock absorber capacity.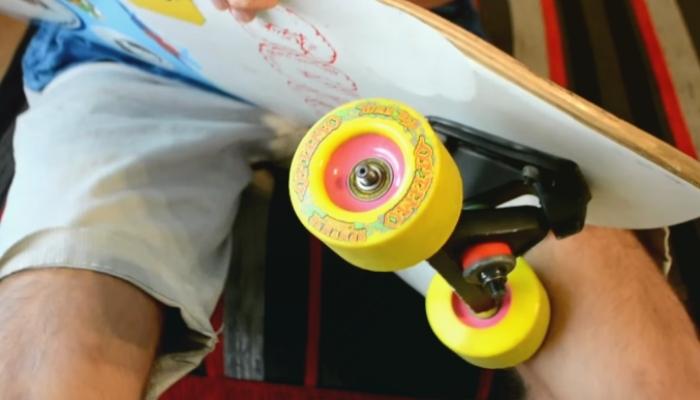 A good bearing can make your ride faster, stable, safe, etc. What are the good bearings? A skateboard can have different bearing types, including the ABEC-5, ABEC-7, ABEC-9, and ABEC-11. All the listed products use more than the ABEC-7 type of bearing.
Trucks & Bush
Don't underestimate the importance of trucks and bush. It helps a skateboard to be stable and endurance in adverse situations and tough terrains. Most manufacturers use aluminum alloy and magnesium alloy to enhance elasticity and toughness. Don't worry. Both are suitable materials.
Try to opt for one that offers high or ultra-high rebound polyurethane bushing technology. It helps to maintain balance and shock when you're at high speed or turning a curvy road.
Grip
It's a very significant factor or safety factor, often. The grip is essential to balance your leg with the board, especially when taking a curvy downhill or uphill turn. There are many anti-grip technologies on the skateboard, but the grip tape is the most popular. Alternatively, you can go for sandpaper grip technology.
Frequently Asked Questions [FAQ]
There are some questions that many people ask frequently. If our review and buying guide didn't satisfy you enough with the information, then have a closer look at them. We hope the answers will cover those problem areas.
Is Riding A Skateboard Faster Than Walking?
Yes, definitely. A skateboard is 3 to 5 times faster than walking. On average, you can get 6 to 15 Mph of speed per hour. The rate depends on your skating skill and experience and.
Is Skateboarding Harder Than Biking?
Learning skateboarding is a bit harder than biking. You need to follow proper guidelines to learn how to ride on a skateboard easily. However, it's not too challenging to learn skating if you start from the basics. The "trial & error" method is the best way to succeed in this game.
What Type Of Skateboard Is Best For Transporting In The City?
If you're looking for a commuting option to ride in the city area, go for a cruiser skateboard. It'll be more maneuverable and easier to stop, especially when you're going to cover a shorter distance like 3 to 5 mph. Cruiser skateboards typically tend to be smoother and faster to rule any rough terrains.
Is Downhill Skateboarding Illegal?
Two areas in California got a temporary ban on downhill skateboarding recently. Santa Barbara and Rancho Palos Verdes county for dangerous skating areas and few accidents.
How Long Do Cruiser Boards Last?
On average 1 to 3 years, but it depends on the quality and style. Generally speaking, skateboard decks usually last for 3 to 6 months. However, if there are any ramps and chipping, you can replace them in 5 to 10 months.
Conclusion
Now, you've got a sound idea about the skateboard, its features, and the benefits of using one. Besides, they can be a good option for our daily commuting and transportation. You need the best one. Although, it's tricky to declare one as the best skateboard for transportation since they all are excellent.
However, don't lose hope. We're here to get you the overall good one as per research and study. Go for the APOLLO Skateboards as our best pick and editorials choice. It's one of the best commuting skateboards with lots of features and numerous benefits. This skateboard features a high quality bamboo-fiberglass deck to deliver a stable,  durable yet flexible ride.
Besides, the symmetrical Twin-Tip-Drop-Through technology helps to ride at a low center of gravity in different situations. In addition, it offers FatCat aircraft-grade alloy trucks, HR78A soft-medium wheels, and BEC-9 RS chrome steel bearings. So, what are you waiting for?