Most people know skateboarding to be for fun. Others just love to watch skateboarders do crazy tricks on a board with four wheels. But did you know skateboarding can be a good way to make money? How cool would it be to enjoy a few tricks and make money at the same time? But the question is how to make money skateboarding?
To make money, you can register and win competitions, become a skateboard photographer or videographer, do adverts for skateboard companies, and many other things with a skateboard. So, why miss the chance? Let's find out more.
Can You Make Money Skateboarding?
You can make money skateboarding as a professional skateboarder participating in competitions. According to comparably, some professional skateboarders anually make more than 60 grands in the United States. Specifically in Los Angeles, skateboarders make $64,168. As for salaries, many of them make $19,910-$44,680. Therefore, after all the taxes are deducted, professional skateboarders might be earning $54,111 per year.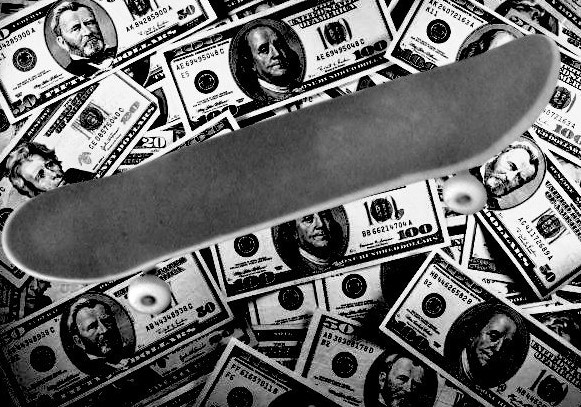 However, don't let these crazy numbers fool you. If you do not know the right steps, you should not just jump into it. So, make sure you have a passion for it. The process to make money from skateboarding might be slow, but your passion will drive you to see it through. On the other hand, when you focus more on the money, you might get disappointed at the beginning stage.
How To Make Money Skateboarding
There are several ways you can make money from skateboarding. You can do most of them simultaneously. But, for some, you need to give it your time and focus on perfection.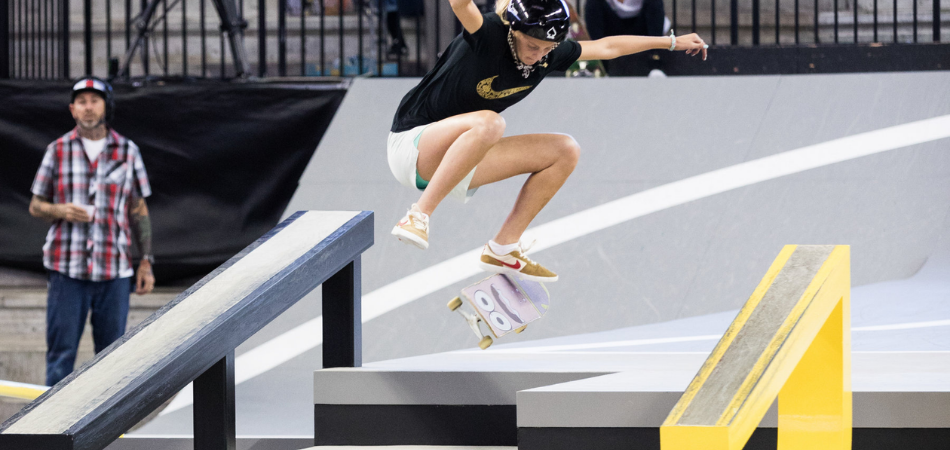 Here are some methods on how to make money skateboarding.
Become a professional skateboarder
Becoming a professional skateboarder is the most obvious way to make money skateboarding. This might be the hardest method, but people often see it as the best.
However, it is a very lucrative method. As a professional skateboarder, there are many opportunities lined up for you. All you need to do is to take one you feel more comfortable with.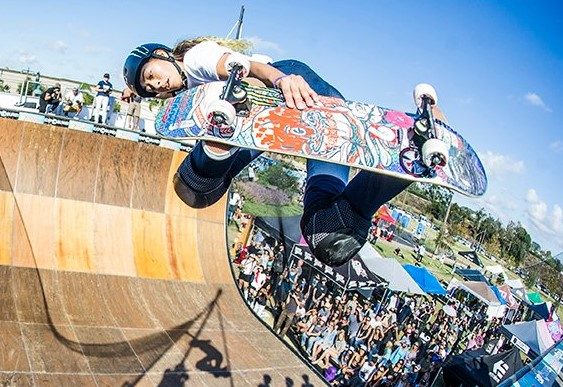 Most professional skateboarders have sponsorship that takes them around the world. As a result, they visit many other skating parks, meet and familiarize themselves with new people, and make money in the process.
There are several more benefits of being a professional skateboarder. You can get endorsement deals, register and win competitions, and many more. However, it is not an easy lane to follow. It requires commitment and a lot more practice to be a professional skateboarder.
Become a skateboarding team manager
Every skateboarding team has a team manager. Most team managers, if not all, are retired skateboarders. A team manager's job is to make sure everything that concerns the team runs smoothly. From their costume, skating trips, skating products, and many more.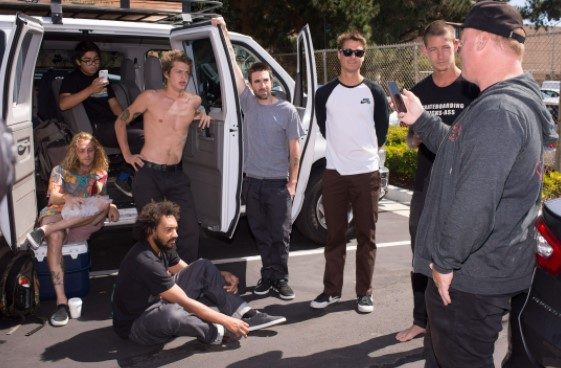 There is no particular angle about the team that the team manager doesn't handle. Their job ranges from individual team members to the general team. They also double as photographers too, so that they can capture incredible moments and stunts their team does.
But, if they don't have the photographing skill, they hire one. Team managers also hire people to handle things that concern the team's wellbeing. In return, they make money from competitions the team wins. Besides, they make money from endorsement deals they get and every other money-making deal the team signs up for.
Become a sales representative
Sales representatives are sales agents for firms. Conventionally, they dress in a suit or a company uniform and market the company's product. But, it is a whole distinct pattern for skateboarders.
Skateboarders who are sales representatives don't dress up and talk to people about buying a product. Instead, they sample the products, and people get interested even without a mouth-to-mouth persuasion. Of course, to do this, you have to be a popular skateboarder.
Some of the sample these products on their social media accounts. Since they are popular skateboarders, many people look up to them in the industry. So, the influence helps sponsor companies make sales.
Nevertheless, some skateboarders use the products. When your friend or a better skater uses a type of skateboard or clothing, you are likely to buy it. In return, the companies pay the sales representatives.
Become a skateboard photographer and videographer
Becoming a skateboard photographer and videographer is another way to make money skateboarding. The job involves a high knowledge of photography and videography but doesn't need professionalism in skateboarding.
People in this field get most of the benefits that professional skateboarders and less of the disadvantages. You don't need to spend hours practicing to be better. But you still get to visit various skating parks, go on trips with professional skateboarders, and still get paid.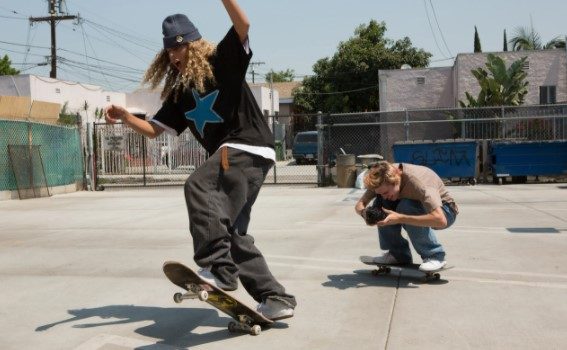 A skateboard photographer and videographer's job is to film the activities of a skateboarder or a skateboarding team. They also take photographs of moments. People in this field often go on trips with skateboarders, go to their parks, and go to their competition grounds as well.
As a skateboard photographer and videographer, you need to be a skateboarder. It is because you will skate and film or take shots of other skateboarders.
On their road trips, you will stake alongside them as well to do your job effectively. But make sure you get a suitable skateboard to avoid accidents since you're not practicing that often. Don't forget that your size will determine the skateboard you use. If you're a bit overweight, always go with skateboards for heavy guys to avoid accidents.
Remember, the job is not like the conventional studio photographing or filming. Instead, it requires more advanced knowledge, good flexibility, and a quick sense.
Become a skateboard writer
You might wonder what skateboarding has to do with writing. Well, skateboarding skills, if combined with excellent writing skills, can bring you attractive payments. However, to write on something, you need deep knowledge about the particular thing. Or else, your work will have so many errors and contradictory terms.
Only skateboarders know skateboarding to the depth. So, they do a better job of writing articles (like myself!), magazines, books, and stories about skateboarding. But, of course, you need to have writing skills too to deliver accurately. 
Also, a skateboard writer can work as a freelancer remotely or steadily for a skateboard team. They write things about the team and publish them on the team's blog or other avenues online. With this, the team pays them for their services.
Register and win competitions
This is one popular way to make money skateboarding. It involves daily practices and attempts to get better at skateboarding. You need to be a professional skateboarder to go into this. You will compete with other people who are eager to win, and you should bring your A-game.
The money in this aspect is mostly huge, but it is not regular. Competitions don't come by daily or monthly. When it does, one person might not emerge the winner for all the editions. Therefore, earnings can get delayed.
Also, some competition does not allow the previous winner to enroll for another edition. So, skateboarders who depend on competitions to make money might stop earning after one win.
How Much Money Can You Make With Skateboarding?
Skateboarders earn salaries differently. Factor like location difference affects their pay. On January 2022, the average skateboarding pay in the United States became $27,352 annually. When you break this down, you will find out that skateboarders earn $13.15 hourly. Also, they earn $526 weekly and $2,279 monthly.
| | | | | |
| --- | --- | --- | --- | --- |
| City | Annual salary | Monthly salary | Weekly salary | Hourly wage |
| San Francisco, CA | $33,082 | $2,757 | $636 | $15.91 |
| Fremont, CA | $31,777 | $2,648 | $611 | $15.28 |
| Santa Clara, CA | $33,092 | $2,758 | $636 | $15.91 |
| San Jose, CA | $31,088 | $2,591 | $598 | $14.95 |
| Oakland, CA | $30,752 | $2,563 | $591 | $14.78 |
| Santa Maria, CA | $30, 202 | $2,517 | $581 | $14.52 |
| Alexandria, VA | $30, 860 | $2,572 | $593 | $14.84 |
| Tanaina, AK | $30, 676 | $2,556 | $590 | $14.75 |
Can Skateboarding Be A Career?
Skateboarding can be a career. With all the benefits embedded in skateboarding, one can decide to take it seriously and make a career out of it. You can channel all the aspects of making money while skateboarding into a good career creation.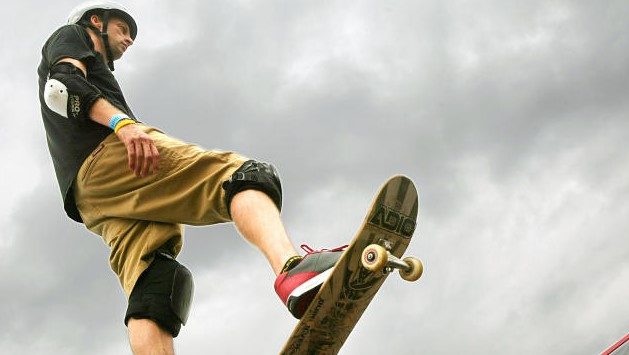 From the amount skateboarders earn, an average skateboarder can live comfortably with his salary. He or she can even do other freelancing skateboarding jobs for more pay. After retirement as a skateboarder, you can go into team management to continue earning.
After you retire as a skateboarder, other jobs you can go into are figure state directing and vintage elite. Also, you can go to a skating rink and work in the skateboard industry. This makes your earning stream continue after retiring from skateboarding activities.
The retirement jobs even pay higher salaries than active skateboarders. Moreover, you can apply for these jobs even before retiring. There is no age range for the jobs, just experience, and competence.
| | | | | |
| --- | --- | --- | --- | --- |
| Job | Annual salary | Monthly salary | Weekly salary | Hourly wage |
| Skateboard industry manager | $60,747 | $5,062 | $1,168 | $29,21 |
| Director of figure skating | $76, 629 | $6,386 | $1,474 | $36.84 |
| Vintage elite | $60,282 | $5,024 | $1,159 | $28.98 |
| Skateboard industry | $56,880 | $4,740 | $1,094 | $27.35 |
| Skating rink | $57,290 | $4,774 | $1,102 | $27,54 |
Final Thoughts
Skateboarding is an actual means to make good money. It could be a side hustle or a key business. It means you can earn from skateboarding passively while you do other things to make ends meet. Also, you can make the activity more than a hobby and earn from it as your principal business or career. However, you have to know how to make money skateboarding before you venture into it.