Skateboarding is one hack of a sport that may seem quite easy at first glance. But is it so? And if it is, how long does it take to learn how to skateboard?
There's no fixed answer to that, but the time you'll need to learn skateboarding ranges from a week to even a full month. Although skateboarding is quite fun and all, learning skateboarding isn't easy if you do not know the proper riding techniques. Besides, patience and practice are key aspects of becoming a pro skateboarder.
But let's not get ahead of ourselves! First, you need to learn the basics of how to ride a skateboard. I'll discuss all the basics of skateboarding in this article along with how much time you should spent in each learning steps. So let's begin.
Is It Hard to Learn to Skateboard?
Like many others, you may enjoy watching skateboarding but are afraid to learn how you can do it yourself. In that case, you're not alone, and the truth is skateboarding is not as tough or difficult as it seems.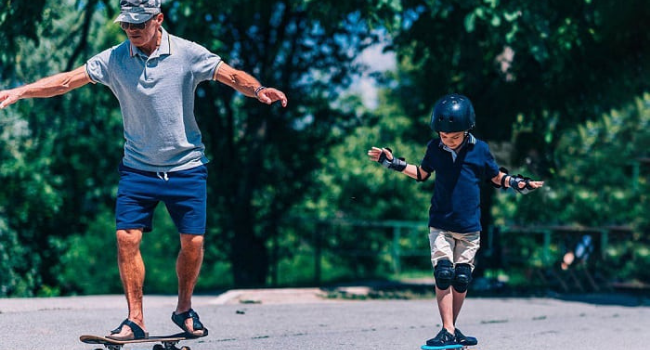 However, you should be expecting a few scratches and bruises. Nothing to be afraid of though! Soft knee and elbow paddings will definitely save the day.
And as a beginner, you can easily learn the basics of skateboarding in a few days or a week. However, when it's about advanced level skateboarding, it requires proper guidance, technique, and of course, a lot of practice.
Once you learn skateboard riding correctly, using a skateboard for transportation to any activity will be as easy as counting numbers. You have to follow proper guidance and practice a lot to learn the basics or be a master of skateboarding.
How Long Does It Take to Learn How to Skateboard?
Once you decide to learn skateboard riding, the second thing that will come to your mind is the time duration. So, how long does it take to learn how to skateboard?
Well, learning how to ride a skateboard won't take long if you follow the appropriate procedure, and you may need a week to a month. Basically, there are two levels of skateboard learning, including: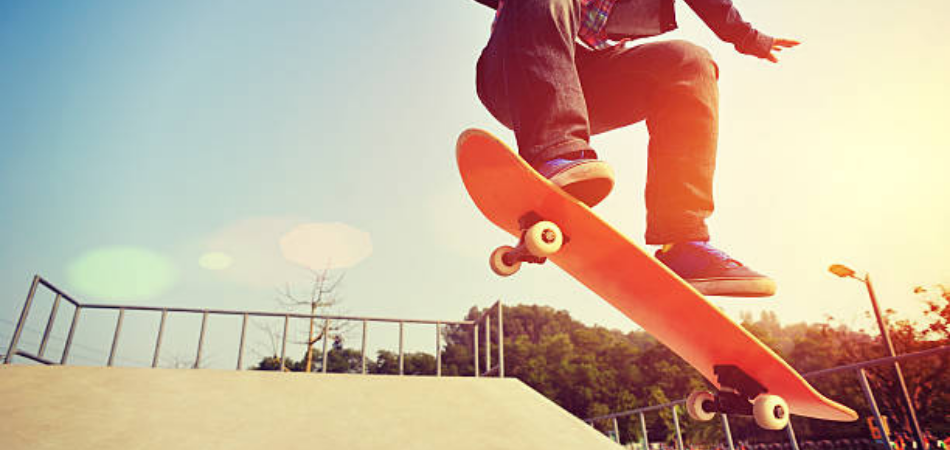 And these levels require a different amount of time. Want to know more about the skateboarding learning procedures of these two levels? Check out the section below:
How Long Does It Take to Learn Basic Skateboarding?
As a beginner, you have to learn all the basics like standing, balancing, sliding, etc. And all these different moves or steps require different amounts of time. However, you can discover the required time that you should give to learn skateboard riding basics from the section below: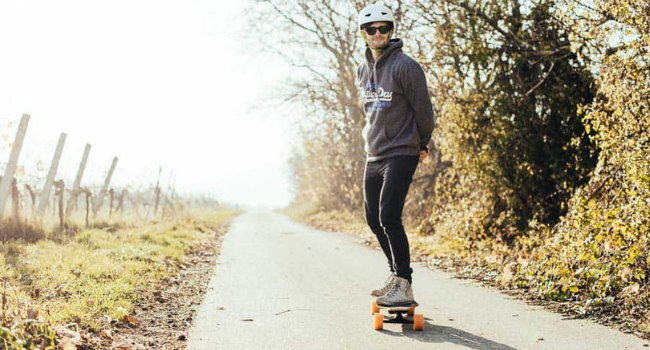 Step-1: Standing
The very first thing you have to ensure is the standing position, and it'll take an estimated time of 10 minutes. Simply hold your skateboard and place on grass or a carpeted area, put one foot on the board, and place the other on the ground to stabilize.
Once you feel comfortable enough, lift the other foot and put it on the board. Take off your both feet and again place on the board, try to practice this for 10 minutes to ensure proper standing position.
However, you've to remember that, there are two different types of standing positions, including:
Goofy: Goofy standing position means you stand on the board with your right foot leading.
Regular: Regular standing position means you stand on the board with your left foot leading.
You've to find out the most comfortable standing stance on the skateboard by trying both positions.
Step-2: Balancing
Once you learn how to stand on a skateboard, you have to ensure balancing. And to learn how to keep proper balance, ten minutes would be enough. How to keep balance on a skateboard? Learn the process from the section below: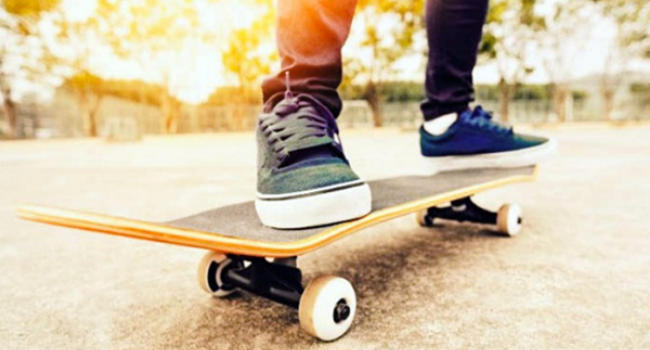 At first, place your skateboard on a flat surface like a parking lot or a driveway.
Now stand on board, place both your feet above the bolts, and keep your weight in a center position of the board.
Try to shift your body weight toward your toes to heels and notice how the board reacts.
Doing this will move your skateboard forward and backward which will help you to learn proper balancing. When you gently shift your body weight, the board will not go so far, so you have nothing to worry about falling down.
Step-3: Pushing
In the third step, you have to learn the proper pushing process. It's the most crucial part, and you've to give at least 30 minutes to learn how to push.
And when it's about pushing, you've to prioritize the standing stance. So, practicing the first two steps is a must.
Here is how to learn to push on a skateboard:
If you prefer a goofy foot position, place your right foot on the front wheels and another on the ground.
Now shift your bodyweight to the right foot position and gently push the board with your back foot.
When the board starts moving, try to take off your back foot from the ground and place it on the rear wheels.
Again take a short move by pushing the board gently. And after placing the back foot on the board, try to keep your foot in a horizontal and parallel position.
However, if you prefer a regular standing stance, follow the full procedure mentioned above and just use your right foot for pushing. If you're not sure about the right stance for you, then try both stances and find out the most comfortable one.
Step-4: Turning
You won't always be riding your skateboard on a straight trails, so learning how to take turns is unavoidable. The basics of turning should take around 10 minutes. However, there are many types of skateboard turns that you can take, including:
The standard procedure is to shift your bodyweight or lean your body to your toe or heel side to turn the board.
Another method you can follow is kick-turn. For that, you have to shift your bodyweight in the rear wheels and lift the front side or nose. Then simply rotate the board's front side in the direction you want to take a turn.
Step-5: Stopping
Last but not least- proper standing, balancing, pushing, and turning are worthless if you don't know the proper braking process. Who likes to fall on their back, right? There are many ways that you can stop your skateboard, such as: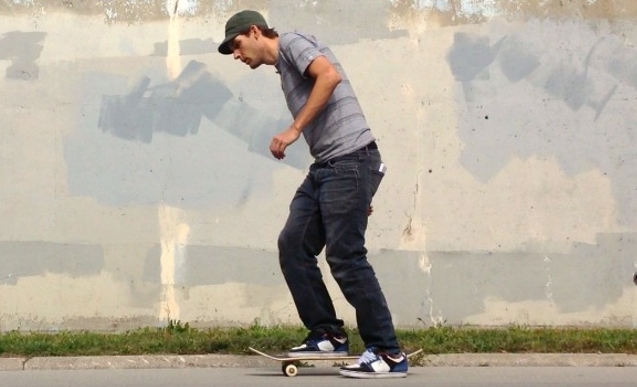 Tail scrape
Taking brake with your foot
Slide stopping
Power sliding
As a beginner, you don't need to focus on different braking systems, and only practice taking brakes with your foot.
Simply use your back foot to push the ground to slow down the board. And practicing this for 10 or more minutes will be enough to learn proper breaking.
Note: When it's about learning skateboarding for the first time, 60 to 70 minutes in total will be enough to get familiar with the basics. And once you can capture all the basics, keep practicing and try learning other turning and braking methods.
How Long Does It Take to Learn a Skateboard Trick?
After learning all the basics, it's time to learn some tricks. And it is difficult to determine how long it will take to learn skateboarding tricks. The reason is the time segment completely depends on learning and practicing level.
Still, you can follow the section below to get an approximate idea about that.
Ollie
Once you learn all the basic skateboard skills, then you can proceed to Ollie and other advanced tricks. The ollie is a skateboarding trick where you have to leap into the air without the aid of your hands.
Here is the short Ollie making guidance that you can look at:
Bend your knees when you're about to make an ollie and jump into the air with your leading foot.
After starting jumping from your front foot, immediately push down or kick the skateboard's tail. Moreover, remember to slide the front foot as soon as you start jumping.
Pull up your knees close to your chest and then simply kick the skateboard's nose. Once you push the front side, the board will be at the level position in the air and then perform landing by keeping your balance.
As you can see, Ollie is a simple trick to learn, and it can take between a couple of weeks to 6 months to perform Ollie properly. Try practicing Ollie a couple of hours a day, and with proper patience, you can learn this trick faster than the estimated predicted time.
Flip on
A flip-on trick is another simple trick where you have to rotate the skateboard in the air. It's an exciting trick that can take weeks, months, or even years to learn appropriately.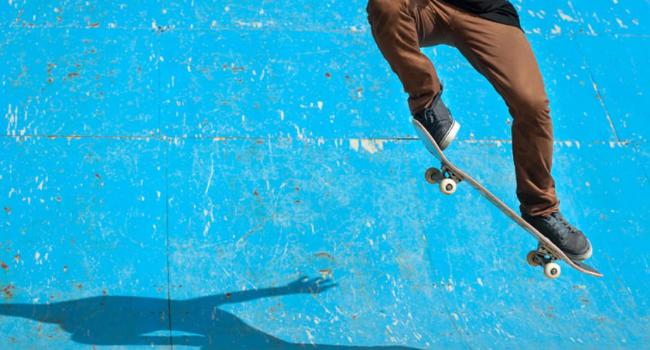 In short, the more you practice, the quicker you will be able to perform the flip-on trick. Here we've included a simple guide to perform this trick, have a look:
Place your front foot at a 45-degree angle just down from the front wheels and the back foot in the tail.
Bend your knees and lift the front side by kicking the board's tail. Then use your front foot and slide the nose diagonally up while jumping.
When you jump, the board will automatically rotate in the air, and once the rotation is done you have to land on it.
The pop and pre lick, the flick, and landing are the main aspects of learning the flip-on trick.
Caveman
Caveman is a skateboard technique that involves holding the board with your hands and jumping on it with both feet. It's super simple and after learning the basics, you may need a couple of weeks or months to learn this trick.
Here is how to perform this trick:
Hold the board's nose with one hand and drop the board.
After dropping the board, immediately jump on the board in one fluid motion. However, ensure that you jumped just above the bolts.
Before dropping the board, be sure to jump on enough height and also bend your knees.
Well, this trick may seem complicated, but with proper practice, you can easily be able to perform this trick. And, if you don't feel comfortable practicing this trick, then practice it in the grass until you feel comfortable.
Boneless
Boneless is another advanced-level trick that you can learn to enhance your skateboarding skill. Since this is an advanced-level skateboard trick, you've to spend at least 2 or 3 weeks to a month to learn this trick.
How to perform this trick? Follow the below steps to discover reliable guidance:
Put your foot on the board and hold the board on the backside of your board's front wheels.
Now take the front foot off from the board and place it in the ground.
Jump in the air with your board and place your front foot back on the board and then land on bolts
This is a simple trick, and it'll help you to ride your skateboard efficiently even in the curbs.
Note: These are some of the advanced levels that you can learn. And alongside learning these tricks, you can also learn tricks like No Comply 180, Rail Stand On, Hardflip, and many more. No matter what trick you're about to learn, always take advice from pro skateboarders and don't forget to put on the safety gear.
How Long Does It Take to Become a Pro Skateboarder?
Well, there is no universal time limitation on learning advanced-level skateboard riding, and you have to practice more to reach the desired goal.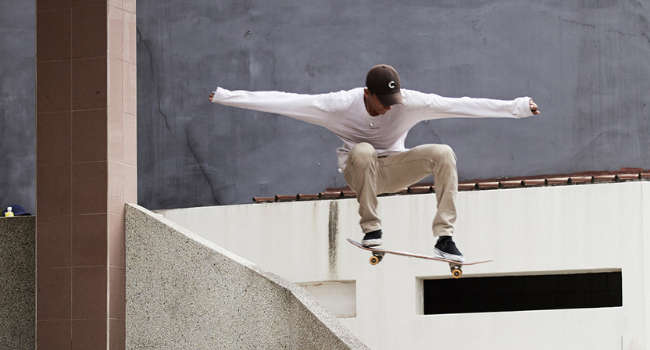 However, there is a saying, you have to practice 10,000 hours to master a new skill and the same goes with skateboarding. You may easily learn all the basics in a couple of weeks but when it's about advanced level, it'll take time.
So if you want to skateboard like a pro, then invest 3 to 5 hours a day for a week to a month on your desired trick. The more you practice, the sooner you can learn skateboarding like a pro.
Also, there are aspects that contribute to pro-level skateboard learning procedure, such as:
Taking or not taking training sessions from a pro
The use of quality board and of course safety equipment
Investing time on your progress
The surrounding environment
Having patience and setting goals and deadlines
Last but not least, always feel hungry to learn pro-tips and tricks.
How to Learn Skateboarding Faster?
Once you learn some of the basics of skateboard riding, it's common to feel hungry about learning advanced-level skateboard riding. In that case, if you intend to boost your skateboarding progress, follow the section below.
Here we've included some tips that will help you to learn skateboarding and your desired tricks faster. Have a look: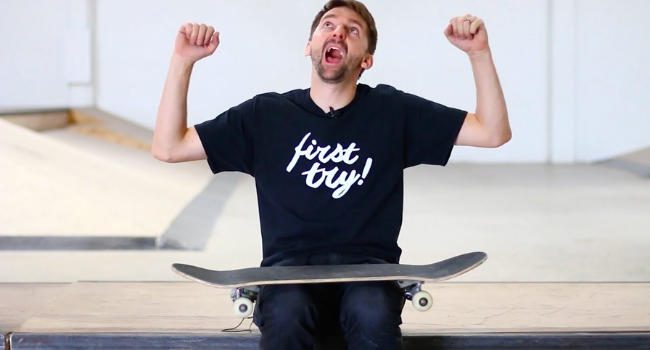 Use appropriate skateboard: To learn skateboard riding faster, you must ensure a good quality skateboard that meets your needs. Especially the deck size, try to choose a deck based on your shoe size and comfort level.
Find Your Own Path: To learn to skateboard faster, the first thing you can do is find your comfortable skateboarding trick. As a beginner, you'll not need to learn every trick and focus on those tricks that you feel passionate about.
Skate With Pros: The core benefit you'll get by skateboarding with pros or professionals is learning advanced techniques. And when you ride a skateboard where most of them are good, they will help you easily learn tricks and techniques.
Ensure Safety Gear: No matter if you want to learn to skateboard faster or in a normal way, ensuring safety gear is mandatory. When you have all the safety gear put on your body, you shouldn't fear falling or trying a new or desired track.
Set Goals and Practice More: There is a saying, "practice makes a man perfect," and the same golden rule goes for learning how to ride a skateboard. Set your goals and deadlines and then practice based on the deadline to ensure your achievement.
Note: There are a lot more ways that you can follow to boost your skateboard riding learning process. You can follow our provided steps or try the best technique that suits you or helps meet your needs.
Bottom Line
What's the conclusion? Learning skateboard riding is not a tough task, and anybody who wishes to learn skateboarding can easily learn it through required guidance. But if you're wondering how long does it take to learn how to skateboard, it depends on several aspects, like those I discussed in this article.
My advice would be not to worry about the timing or time duration. Just focus on your goal and practice as much as possible. Practicing the proper techniques will help you to learn how to ride a skateboard reliably.
And most importantly, throughout this article, I've also included some tips to learn skateboarding faster. So try these tips and guidance today and start skateboarding with ease.